Essay topics:
The chart below shows estimated world literacy rates by region and by gender for the year 2000.
Write a report for a university lecture describing the information below. You have to write at least 150 words.-Syerapke- (rewrite)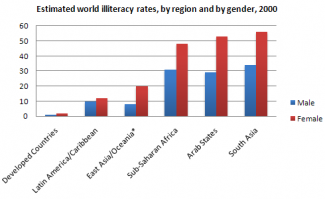 The bar chart compares the estimated proportion of illiterate men and women in six regions in 2000.
Overall, more women were illiterate than men in all six areas around the world .However, developed countries had the lowest illiteracy rates of both gender in 2000.
The chart revealed that numbers of women are illiterate. Based on the gender skills of literacy the greater part of unskilled write and read were placed by woman, the number was more doubled than the counterpart. However, in the developed country and Caribbean the proportion between gender illiteracy was resemblance by 15 points
Majority of the population in the developed countries was literate. Both genders have shown close to zero level of illiteracy level in the developed countries. However, people of the Caribbean and Oceania came the second lowest in illiteracy rates while the people of South Asia recorded as the highest rate. In other hand, apprehensive portion of illiterate come from Sub-Saharan African, Arab States, and South Asia. Inhabitants, in those three regions, were lack of literacy skill with no more than 30 points.

Comments
the proportion between gender illiteracy was resemblance by 15 points
the proportion between gender illiteracy was in resemblance by 15 points
Attribute Value Ideal
Score: 6.5 out of 9
Category: Good Excellent
No. of Grammatical Errors: 1 2
No. of Spelling Errors: 0 2
No. of Sentences: 10 10
No. of Words: 179 200
No. of Characters: 910 1000
No. of Different Words: 100 100
Fourth Root of Number of Words: 3.658 4.0
Average Word Length: 5.084 4.6
Word Length SD: 2.6 2.4
No. of Words greater than 5 chars: 65 60
No. of Words greater than 6 chars: 50 50
No. of Words greater than 7 chars: 34 40
No. of Words greater than 8 chars: 27 20
Use of Passive Voice (%): 0 0
Avg. Sentence Length: 17.9 21.0
Sentence Length SD: 6.123 7.5
Use of Discourse Markers (%): 0.3 0.12
Sentence-Text Coherence: 0.388 0.35
Sentence-Para Coherence: 0.552 0.50
Sentence-Sentence Coherence: 0.1 0.07
Number of Paragraphs: 3 4