Essay topics:
The chart below shows the total number of Olympic medals won by twelve different countries.
Write a report for a university, lecturer describing the information shown below.
Summarise the information by selecting and reporting the main features and make comparisons where relevant.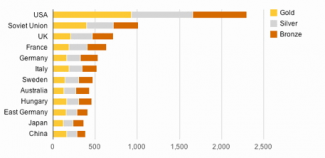 The chart provides information on twelve different nations which won Olympic medals.
Overall, most medals were won by the USA where Japan won the least amount.
The USA was awarded over 2000 medals in total of which nearly 1000 were gold ones and around 500 medals were made out of either silver or bronze.
While most of the European countries won around 500 trophies, only the UK and France followed by Germany and Italy received over 500 medal combining all types of medals. However, East Germany, Sweden and Hungary won less than 500 trophies. On the contrary, Soviet Union was the only state in Europe that won 1000 medal where about 500 were gold medals.
On the other hand, Japan and China, the only two Asian countries won less than 500 awards.