Essay topics:
International migration in the UK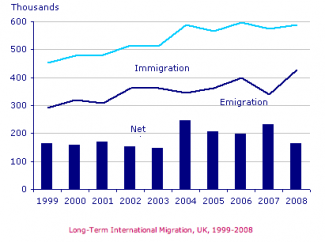 The given chart provides figures of international migration in the UK in the period of ten years from 1999 to 2008.
In general, the UK experienced a significant increase in both immigration and emigration, however, the number of immigration was considerable higher. Net migration varied over the period with high values in 2004 and 2008.
In 1999, the number of immigration was over 450000 while there were just about 300000 people who emigrated to UK. Net migration was around 160000 people and it remained at similar level until 2003. From 1999 to 2004, the number of immigration rose substantially reaching nearly 600000 in 2004 whereas emigration underwent a smaller rise. Net migration peaked the highest point at about 250 000 people in 2004.
From 2004 to 2008, immigration remained to rise gradually while the number of people emigrating fluctuated. In 2007, emigration suddenly fell to over 320000 people before peaking at 420000 people. Thus, net migration increased to over 240000 people followed by a sharp decrease to 160 000 in 2008.