Essay topics:
The graph below compares figures for the production and consumption of energy in the US from 1950 to 2000. It also predicts figures for 2025.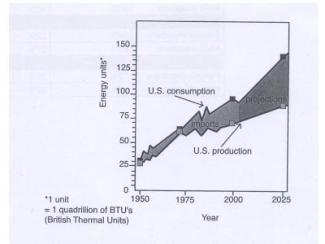 Given is the graph providing a comparison of production and consumption of energy for the period of 1950- 2000 and the predicted figures for 2025 in the US.
A glance at the chart reveals that the amount of consumption surged from around 30 to 65 units during 1950-1970. Similarly, the energy production also rose from 30 and reached approximately 60 units. Referring to the information bar it is observed that in comparison with consumption, energy production was more stable, and indicated 90 and 60 units respectively so the result of the difference between them made the proportion of energy imports continue to increase from 5 to 30 units till 2005.
It is also predicted that the quantity of energy consumption will noticeably rocket and reach 140 units whereas the production will be only 80 units so about 60 units of energy will be consumed by 2025.
In conclusion, it can be noted that a great increase in energy projections is anticipated in the US.
Comments
Attribute Value Ideal
Score: 7.0 out of 9
Category: Good Excellent
No. of Grammatical Errors: 0 2
No. of Spelling Errors: 0 2
No. of Sentences: 6 10
No. of Words: 164 200
No. of Characters: 783 1000
No. of Different Words: 89 100
Fourth Root of Number of Words: 3.579 4.0
Average Word Length: 4.774 4.6
Word Length SD: 2.904 2.4
No. of Words greater than 5 chars: 54 60
No. of Words greater than 6 chars: 38 50
No. of Words greater than 7 chars: 32 40
No. of Words greater than 8 chars: 26 20
Use of Passive Voice (%): 0 0
Avg. Sentence Length: 27.333 21.0
Sentence Length SD: 12.188 7.5
Use of Discourse Markers (%): 0.667 0.12
Sentence-Text Coherence: 0.514 0.35
Sentence-Para Coherence: 0.827 0.50
Sentence-Sentence Coherence: 0.235 0.07
Number of Paragraphs: 4 4