Essay topics:
PROPORTION OF INTERNET USAGE
The line graph shows the percentage of Internet users in three countries from 1999 to 2009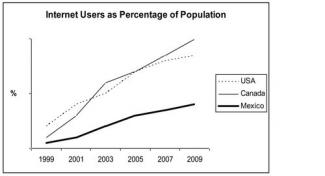 The line graph illustrates the number of people who uses the internet of the population in the period of ten years from 1999 to 2000 in three nations: USA, Canada and Mexcico.
In general, all three countries experienced a significant growth, while the USA ranked first, Mexico was the lowest in Internet users.
In 1999, the percentage of the internet users of USA was at about 20%, followed by Canada at 10% and finally was Mexico at about 5%.In 2003, USA and Canada rose substantially to more than/around 50% while Mexico gradually increased to 30%.
In 2005, Internet usage in both the USA and Canada rose to around 70% of the population, while the figure for Mexico reached just over 25%.In 2009, the growth of users in USA and Canada was dramatic, reaching 100% and 80% respectively. Mexico was the lowest one which reached 40%.