Essay topics:
The Chart below show the males and females arrested over 5 years and the reasons for the most recent arrests.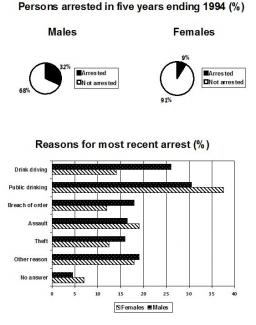 The pie chart illustrate the proportion of the genders arrested and not arrested over 5 years, while the bar chart gives information about the reasons of boys and girls got arrested between 1989 and 1994.
Overall, both genders percentage of arrested and not arrested had a huge different in the given period. However, in 1994, in comparison, majority of males were arrested while only less percentage of females were arrested. Moreover, two major reasons of the genders got arrested were Drinking on Public and Drink Driving.
As it can be seen that, Public drinking was the main reason for both males and females were arrested, with about 31% and 37% respectively. In term of Drink driving, males had over 25% as opposed to below 15% for females. Furthermore, Assault for girls were about 19% than boys, while Theft for boys were about 16%.
On the other hand, Other reason that genders(Males and females) got arrested had slightly different with about 18% and 17% respectively. No answer for both gender was the lowest percentage of reason for most recent arrest with less than 5% for boys and about 7% for girls.

Comments
Sentence: The pie chart illustrate the proportion of the genders arrested and not arrested over 5 years, while the bar chart gives information about the reasons of boys and girls got arrested between 1989 and 1994.
Description: The fragment chart illustrate the is rare
Suggestion: Possible agreement error: Replace illustrate with verb, past tense
Sentence: Overall, both genders percentage of arrested and not arrested had a huge different in the given period.
Description: A noun, plural, common is not usually followed by a noun, singular, common
Suggestion: Refer to genders and percentage
Attribute Value Ideal
Score: 7.0 out of 9
Category: Good Excellent
No. of Grammatical Errors: 2 2
No. of Spelling Errors: 0 2
No. of Sentences: 9 10
No. of Words: 190 200
No. of Characters: 891 1000
No. of Different Words: 98 100
Fourth Root of Number of Words: 3.713 4.0
Average Word Length: 4.689 4.6
Word Length SD: 2.418 2.4
No. of Words greater than 5 chars: 55 60
No. of Words greater than 6 chars: 44 50
No. of Words greater than 7 chars: 28 40
No. of Words greater than 8 chars: 13 20
Use of Passive Voice (%): 0 0
Avg. Sentence Length: 21.111 21.0
Sentence Length SD: 6.118 7.5
Use of Discourse Markers (%): 0.556 0.12
Sentence-Text Coherence: 0.472 0.35
Sentence-Para Coherence: 0.702 0.50
Sentence-Sentence Coherence: 0.138 0.07
Number of Paragraphs: 4 4