Essay topics:
Summarize the point made in the lectures you just heard, explaining how they contrast with the points made in the reading.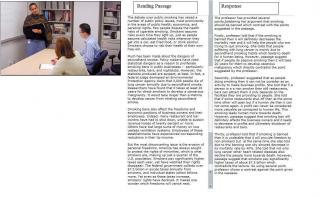 Testbig I've written this response in Kaplan software practice test and it is not allowing me to copy the response written by me as software had blocked my response. But I've created an image of that in which on the left hand side I've provided reading passage and on the right hand side I've written response. I've also highlighted passage by writing Reading passage at the top and my answer by writing Response at the top. I've inserted professor image also. So if it is possible then can you please evaluate my response. I will be very much thankful to you.
Comments
28 in 30
It covers everything and with great language!
We can understand that you don't have any problems on TOEFL. You will only need to take care of GRE argument essay.
Thansk a lot for evaluating my essay through image. I'll definitely do practice of argument essay.