Essay topics:
Some people believe that children's leisure activities must be educational,otherwise they are a complete waste of time.
Do you agree or disagree?
Give reasons for your answer and include any relevant examples from your experience.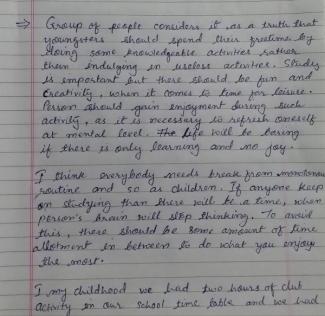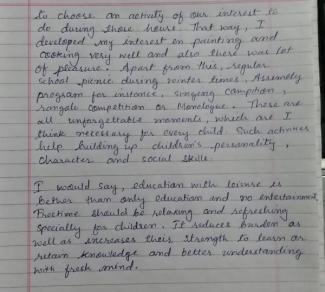 Group of people consider it as a truth that youngsters should spend their free time by doing some knowledgeable activities rather than indulging in useless activitie. Study is important but there should be fun and creativity, when it comes to time for leisure. Person should gain enjoyment during such activity, as it is necessary to refresh oneself at mental level. Life will be boring if there is only learning and no joy.
I think everybody needs a break from monotonous routine and so as children. If anyone keep on studying then there will be a time when person's brain will stop thinking. To avoid this, there should be some amount of time allotment in between to do what you enjoy the most.
In my childhood we had two hours of club activity as a part of our school time table and we had to choose an activity of our interest to do, during those hours. That way, I developed my interest in painting and cooking very well as well as there was lot of pleasure. Apart from this, regular school picnics during winter time, assembly programs, for instance, singing competition Rangoli competition or monologue,these are all unforgettable moments which are I think necessary for every child. Such activities help building up children's personality, character and social skills.
I would say, education with leisure is better than only education and no entertainment. Free time should be relaxing and refreshing, specially for children. It reduces burden as well as increases their strength to learn or retain knowledge and better understanding with fresh mind.